Commercial Foundation Services in Greater Cleveland
Expert contractors backed by an international network of foundation dealers
Problems happen to commercial foundations everyday, and if not diagnosed quickly and treated effectively, bigger problems result.
Foundation Supportworks of Ohio is Greater Cleveland's leading provider of foundation services, including repairs for existing structures and work for new construction. We have abundant experience remediating commercial, industrial, municipal, and residential foundations. We are proud to offer our services and advice to help ensure structural integrity for your foundation.
With over fifteen years of experience in the industry, Foundation Supportworks of Ohio is well equipped to solve any foundation problem you may be experiencing. We are a family-owned and operated business dedicated to helping our customers make good choices and save money on their repairs.
All of our technicians are fully certified and able to answer all of your questions in addition to performing safe, high-quality work. As a member of Supportworks, Inc., we have access to the best foundation products around, designed by structural and geotechnical engineers. We will use these materials to put a stop to foundation settling, fix cracks and sloping floors, and solve all your commercial foundation problems.
Take a look at our services and feel free to contact us with any questions. Our commercial project managers will be happy to assist you.
Schedule your Free Estimate for commercial foundation repair
Who Chooses Us?
Property managers
Commercial realtors
Structural engineers
General contractors
And more!
Need help fixing your commercial foundation or constructing a new one? Foundation Supportworks of Ohio specializes in these and other foundation concerns.
Call us at 1-855-552-2736 or contact us online today to schedule a no-obligation inspection and cost quote. We service Cleveland, Akron, Youngstown and areas nearby.
Our Products and Services
Are you experiencing any of the following problems with your commercial foundation?
Cracks in brick
Sloping, uneven floors
Sticking windows and doors
Cracks in walls
Cracks in floor
All of these are signs of foundation disrepair – but fortunately, we can help solve all of these issues. Utilizing products such as push piers and underpinning solutions, helical and tieback anchors, helical piles and helix piers, soil nails, and more, we have a complete line of foundation products for the remedial repair of existing structures. For those who need an experienced company to help lay the groundwork for new construction, we offer services to create end-bearing deep foundations as well. Foundation Supportworks of Ohio is happy to provide these services for commercial foundation projects throughout Greater Cleveland.
Locally owned, internationally supported foundation repair company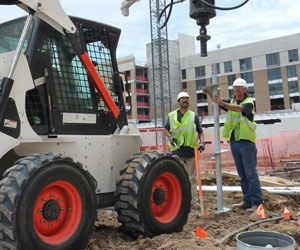 The employees of Foundation Supportworks of Ohio are experts in the field commercial foundation and take pride in the their work.
The Supportworks, Inc. international network of contractors delivers a complete line of products for the repair and installation of commercial foundations, as well as housing skilled engineers to constantly improve upon products and practices.
Being a member of the network allows us to provide our customers with products that will last and solutions they can trust. Stopping foundation settlement and instability has never been easier.
Contact us today to schedule your free inspection with one of our commercial project managers and receive a free cost estimate for your needed repairs. We operate throughout Ohio, in these cities: Akron, Cleveland, Youngstown, Warren, Lorain, Elyria, Mentor, Lakewood, Medina, Painesville and nearby.